I never thought I'd get the chance to say that I WORKED at an official TEDxCopenhagen event.  But yesterday, I was fortunate enough to have the opportunity and honor to do so.
I'm in this class called "Creative Industries" that explores the role of creativity in the experience economy.  How can we generate a memorable experience for consumers?  How does Starbucks make a simple place to buy coffee into a place where people want to hang out with friends, listen to music, and linger in the smell of freshly brewed beans?  Anyway, that's what we discuss in "Creative Industries," and to connect theory with practice, our instructor convinced the TEDxCopenhagen coordinators that our class displays enthusiasm for this type of event and would work hard to make it the best TEDxCopenhagen ever!  So we were thus invited to participate in making the event happen as volunteers.
And what was my task in creating this amazing experience?  First, I volunteered my Sunday afternoon to put together more than 600 goodie bags, complete with magazines, books, and writing utensils.  But my major task on the day of the event was STAGEHAND!  And that means I got to see all the behind-the-scenes action and meet all the cool, unique, and cultural speakers.  It was probably the most underrated job and by far the best (in my opinion).  I moved speakers and monitors on and off the stage, and held Jakob Silas Lund's football for him while he prepared for his speech (I don't know why, but I felt really special baby-sitting that ball).  He ended up giving a speech about his Play31 organization, which uses football to "bring together people who have been torn apart by war."
Throughout the event, Thomas Thorhauge summarized the topics through descriptive sketches.  He talked about how drawing is a natural way for our brains to share and communicate information.  Together, we can use drawing to process ideas and make learning easier.  Below is Thomas finishing his drawing of Jakob Silas Lund's football talk…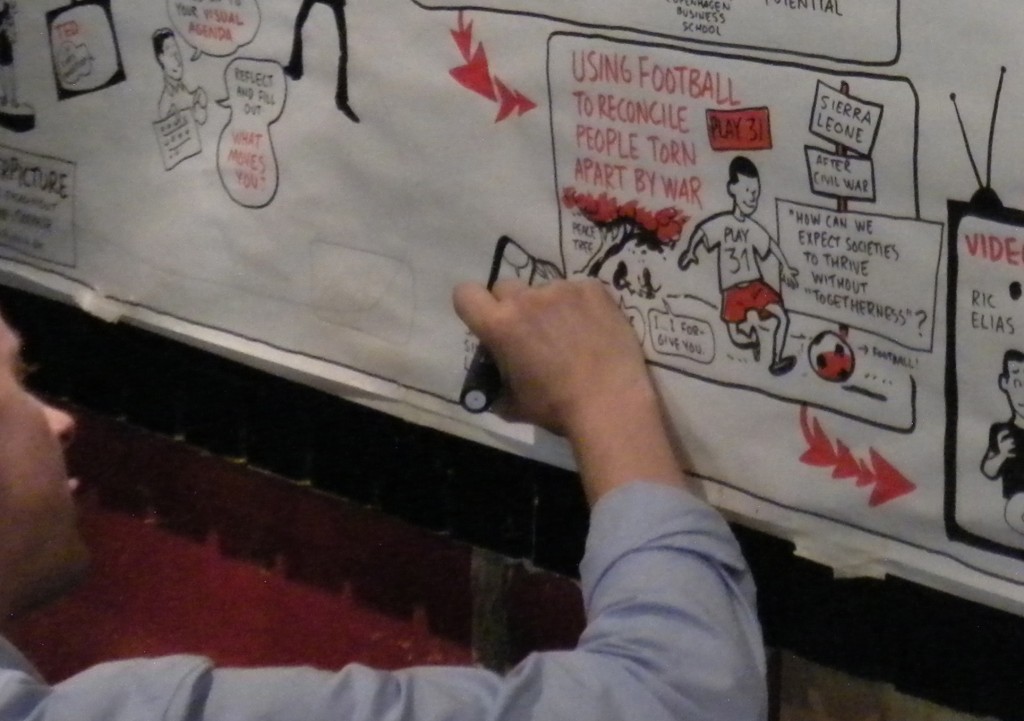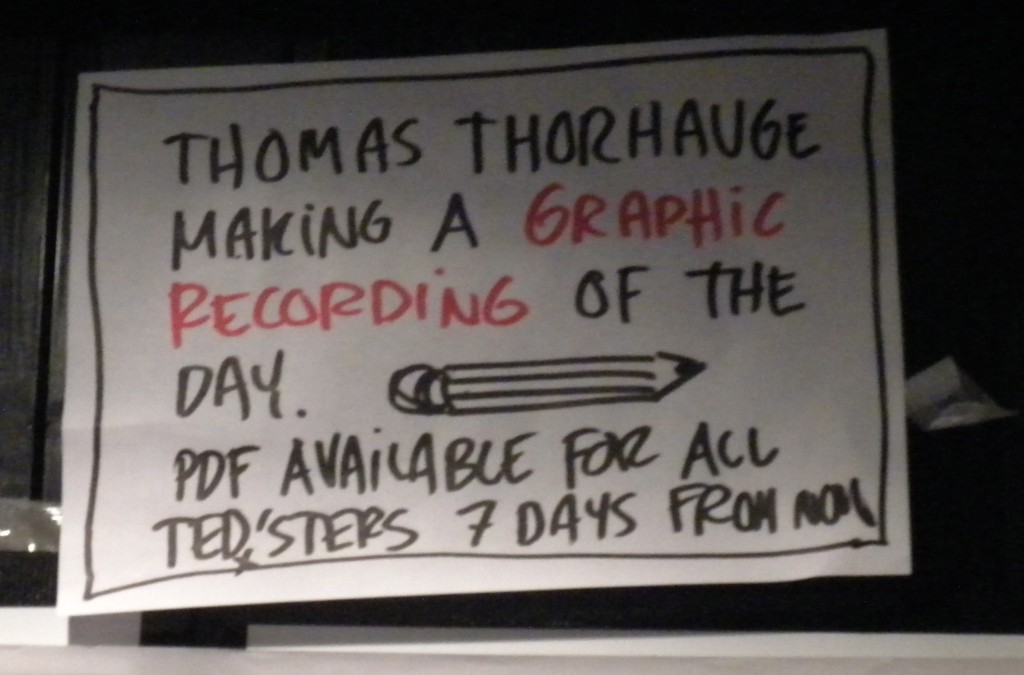 Other remarkable speakers included…
Claus Meyer (Co-founder of Noma, the world's best restaurant for 3 years straight) – He challenges conventional thinking in food production and consumption.  He believes we need to eat less of the crap, 20-ingredient food that we so often eat, and eat more local, whole foods (such as the whole grain bread that he baked in an oven right there on the stage!) He even taught us how to make our own bread, and he noted five VERY important things to remember….1. WHITE BREAD  2. USE MORE WATER!   3.  KNEAD LIKE MAD!   4. USE MORE SALT!  5. LET BREAD SIT!   And tah-dah!  A delicious, moist bread.  As a treat, each participant received a bag of Meyer's sourdough and stone-ground wheat flour, so now I get to try this bread-making thing for myself. (I'll have to let you know how that one goes.)
Birger Lindberg Møller (expert in synthetic biology at the University of Copenhagen) – He described the power of plants in moving towards a biobased society.  Scientists have ideas of getting a plant's cell walls to produce a biomass that we could use as fuel in place of oil!  With plants, the possibilities are endless.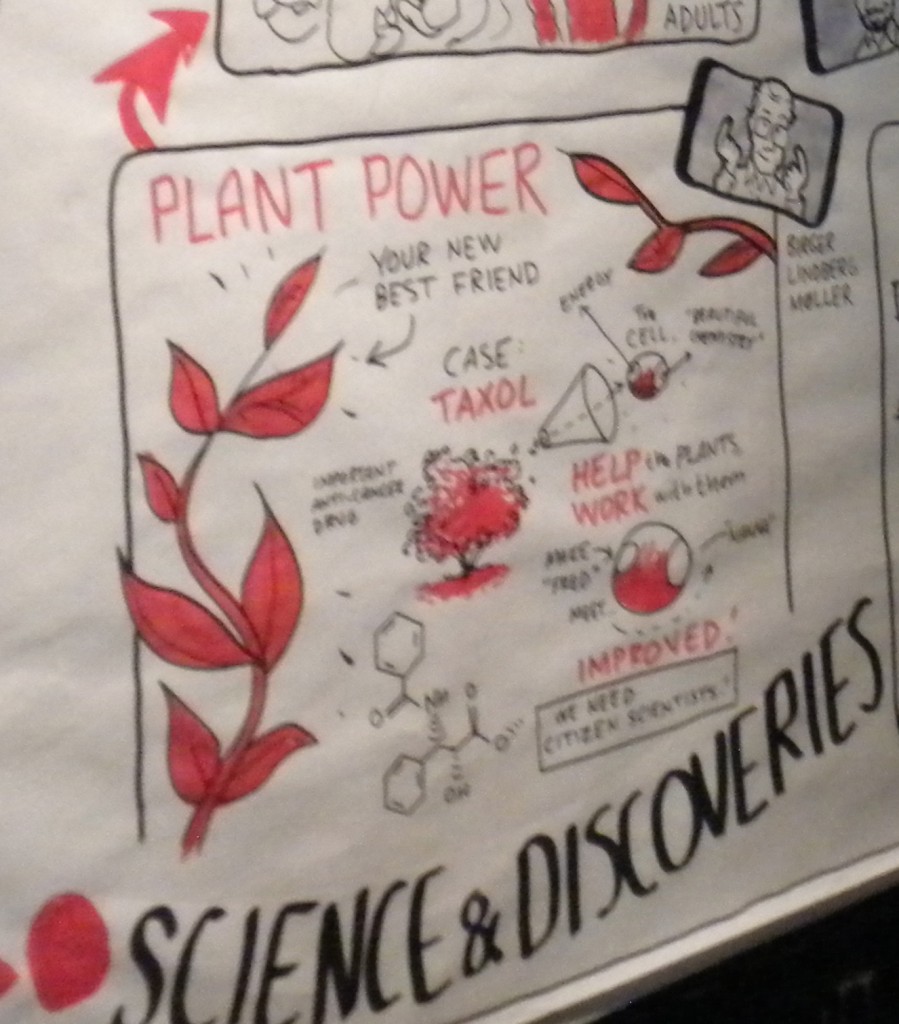 Troels Petersen (expert in physics at the University of Copenhagen) – He introduced us to CERN's giant LHC (Large Hadron Collider) accelerator, where protons can move almost at the speed of light!  And when/if they collide, they produce a Higg's boson – which would prove the existence of a Higg's Field and how elementary particles acquire mass.  In July 2012, the team witnessed this collision and discovered a boson consistent with the Higg's boson characteristics!  Could this be the actual Higg's boson?  Making such discoveries and understanding such challenges moves us closer and closer to understanding the fundamentals of our Universe.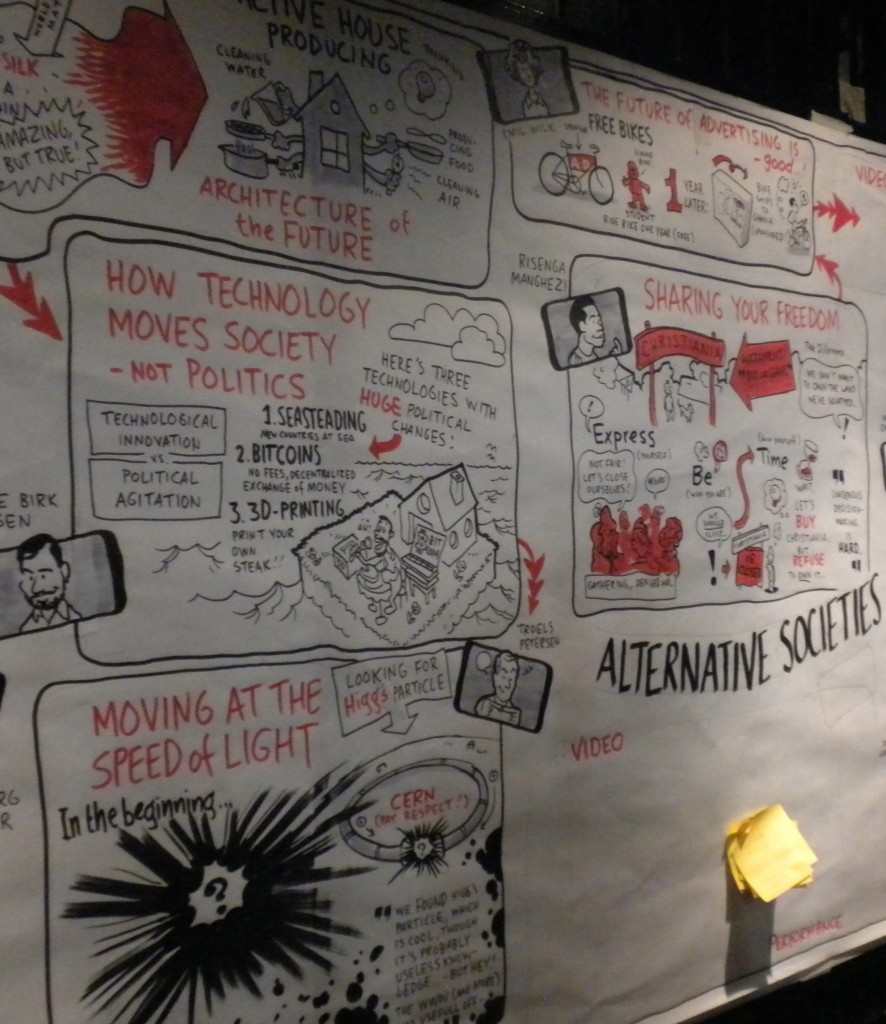 Risenga Manghezi (noted spokesman for the Christiana community – pictured below) – Christiania, established in 1971, is famous for it's "freetown" title and self-governing community.  People here claim they are free to do as they wish and not be bothered about it.  After the Danish state demanded that the Christiania people pay for the land they were using or move, the community decided to purchase the land they were on without actually "owning" it.  They wanted to preserve their free city, where nobody actually owns the land.  Christiana is a major tourist site in Denmark and produces many cultural phenomenon, in terms of art, music, ideas, etc.  That flame can never be extinguished.
Emil Wilk (creator of Freebikes in Denmark – pictured below) – He shared his experience with using advertising for a good cause – Freebikes.  This organization sells advertisement space on bikes in order to provide them for Danish college students, free of charge.  After a year of use, they send the bikes to the Senegal and Ghana so that children have an effective method of transportation to and from school.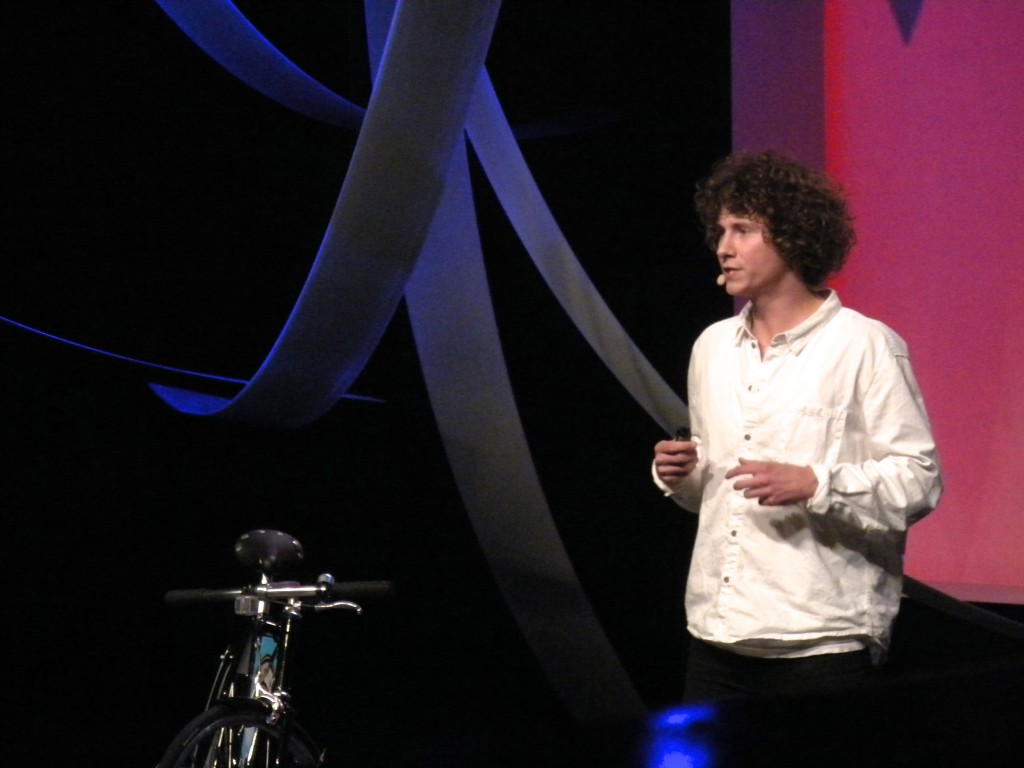 And to close the event, freestyle music artist Per Vers literally "rapped" up all the talks.  Check it out below!  (Just a disclaimer…he's rapping in Danish, not mumbly-jumbly, and sorry if the quality is poor…. It's fun to watch though!)
Every speaker was so moving and inspirational.  Being a part of this event has motivated me to make a change in our world.  To take action no matter how small the task.  No idea is stupid, but so many people fear sharing them, worried that others might laugh or disagree.  Well times have changed, and even what may seem the silliest idea will spark creativity and perhaps a movement of evolution.  Draw it out, speak now…don't hide all of your precious ideas and innovations from the rest of the world! (This is just a little personal motivational speech, mostly directed towards myself, but by all means, take it to heart if you so desire.) 🙂