It's been almost two days since arriving in Denmark, and I have experienced so much.  First off, my flight from Knoxville to Newark and then to Toronto and finally Copenhagen (phew!) was an exhausting success.  I left the US August 18 and landed in Copenhagen August 19, and sleep wasn't really on the agenda, so although my body felt sluggish and sleepy, I was extremely excited to be in this new place.  My host family met up with me at the Hilton Hotel at the airport (minus the daughter Christina because she was gone for a weekend of handball tournaments), and their optimistic demeanor and friendly welcome convinced me right away that this would be an exciting and entertaining semester.
My first Danish meal was lunch that day, and it consisted of Smørrebrød.  This is an open-faced sandwich that usually involves compiling cheese, vegetables (such as cucumbers and red peppers), and maybe some type of lunch meat on top of a piece of dark, grain-rich rye bread.  It was a delicious meal, and I look forward to packing my own Smørrebrød for lunch during the week!
I also got a tour of my new home in Denmark, and it has a very modern touch, with unstained wood floors and satin chrome appliances.  Jesper and Birgette did much of the remodeling themselves, and it's quite impressive.  I'm also excited about the trampoline in the backyard.  But I'd probably hurt myself trying to do anything too fancy…it's been so long since I've been on one!
In an attempt to keep me awake and moving, we also walked around the neighborhood for a brief tour.  The water is only a minute walk away, and because of the warm weather, so many families were out and about, swimming in the shallow waters or riding bikes all around.  I'll never be bored around here, that's for sure!
Our first day of DIS orientation took place yesterday.  My host mom guided me and my neighbor DIS student, Richie, through the train system and to our Opening Ceremony.  Surprisingly, train transportation is relatively easy!  In fact, it's really fun traveling to and from a big city.
After a friendly welcome from the DIS staff and a beautiful strings concert, we made our way to our first introductory classes, learning how to dine and eat frugally…Copenhagen is a very expensive city.  A cup of coffee is about 20 Danish krones, and that's roughly $3.00!
Very popular mode of transportation in Copenhagen.  Looks fun, huh?  Well you definitely have to be on the lookout for bicyclers speeding every which direction.
To become oriented with the city, my awesome exploration group (Richie, Kristin, and I) wandered to random places around Copenhagen.  We also attempted to find Nyhavn, the beautiful and historical commercial port, but managed to find ourselves on the other side of the city.  Copenhagen has so many beautiful sites and buildings, and in combination with the winding streets and busy bike traffic, it sometimes feels like we're on a hunt for Waldo.
So hmm, where's Waldo?   ….Oh look, there's two of them!
Today, however, Kristin, Richie, our new friend Sam, and I were much more efficient and successful in reaching our destinations.  Although reached by probably the longest route possibly, we finally found Nyhavn.  We even got to ride on the riverboat taxi (after humorous struggles in finding where to get on one).  And probably most stereotypical of the average Copenhagen tourist, we visited the Little Mermaid statue.  It was a beautiful sculpture, and the flocks of tourists around it definitely added a nice touch. 🙂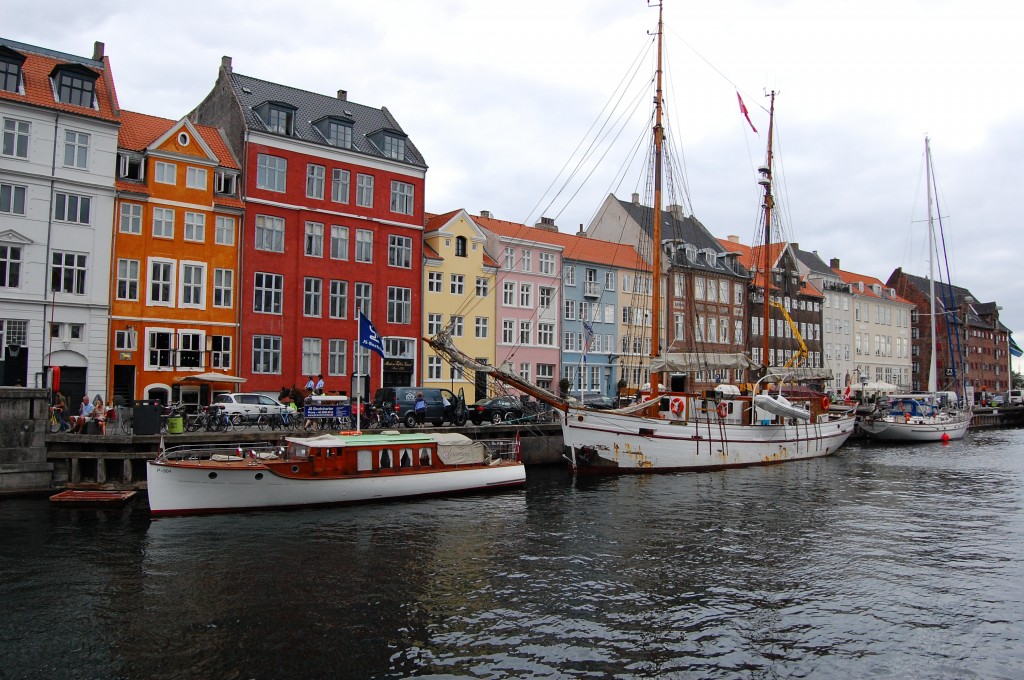 Nyhavn (translated to Newhaven) – historical commercial port, once busy with sailors from around the world, is now a popular place to see as well as find a place to eat.
Our riverboat taxi… cool huh?
Pirate Ship!…it's gotta be.
The Little Mermaid – Sculpted in 1909, based off Hans Christian Andersen's original fairy tale
And that's how popular she is.
Finally, I received my textbooks for the semester….and I don't think I've seen so many textbooks in my backpack at once.  I'll definitely be doing a lot of reading this semester, between the crazy adventures and excellent classes of course.
Tonight was just as eventful, so I have to tell you everything.  My host mom and I made a super delicious dinner together for the first time.  We made squash pancakes, fish balls, and boiled potatoes.  And for dessert, Birgette made a divine white cake with brown sugar/coconut topping.  I'm really excited to cook more with Birgette and learn some new recipes.  My host family and I also watched my first Copenhagen football match (And no, not the American version.  This one's good ol' soccer for those of you who might thinking of the Giants or Stealers).  It has been 1-0 in Copenhagen's favor for most of the game, and we have only seconds remaining on the clock! …(and the tension's rising)…  And they won!!  Maybe next time, I will get to watch the game live.  It seems like an excellent way to celebrate the Danish culture!
I know this was a super long post, but I've had so many exciting and adventurous things happen in the past 48 hours.  DIS does a great job in helping us new students become familiar with life in Copenhagen.  I'm already starting to feel like a Dane!